Located in Vancouver, Canada, Little Basket Theatre Company was founded by Artistic Director, Jacqueline Korb in September of 2011. The company's mandate is to provide theatre that is rich with stories focusing on queer women. Through comedy, drama, one-act and full-length productions, Little Basket Theatre hopes to bring to the stage strong, dynamic queer characters with the help of experienced and emerging artists.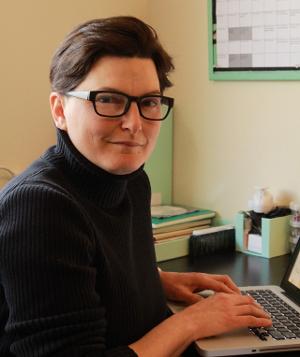 Jacqueline Korb, Artistic Director
Jackie is a graduate of the theatre program at Douglas College. She has been writing and performing her own work for over 20 years. Previous works include the solo shows, Pleased to Meet You, How to Find Your Mate and Women of Career. Other written works include Partners, Try This on For Size, Vic & Jack, The Last Piece and the live sitcom series, Slacks. As an actor, she has appeared in such plays as A Flea in Her Ear, The Man Who Came to Dinner, Patio and Gwen and Gwen. As a director, she has taken the reins for the productions of Gwen & Gwen, Vic & Jack, The Last Piece, Lucky Girl and Slacks. When she is not creating theatre, Jackie works as a landscaper in and around Metro Vancouver.